1
If you travel to Taiwan you can find two electric scooters called Gogoro 2 Delight and Gogoro S2. These scooters have a top speed of 55-57 mph and a range of 68 miles. Those specs are good, but that's not what I think sets these scooters apart from other two wheel electric vehicles. Its their initial cost of only $1600 to $2050 and the battery swapping technology owned by Gogoro and Yamaha.
When the Gogoro scooter battery becomes discharged you simply drive to a battery station and exchange your discharged battery for a fully charged one. This makes for a very short wait time when dealing with a discharged battery. Gogoro says customers can swap their discharged battery for a fully charged one in a fast 6 seconds, so this is faster than going to a gas station to fill up your motorcycle with gasoline. I've always thought the biggest problem with electric vehicles is the long recharge time and Gogoro seems to have solved this problem, at least in Taiwan. I assume it works something like New York City's Citibike stations where they have stations setup all over New York for renting bicycles. A Citibike customer walks up to the station and inserts their Citibike card, then rents the bicycle.
The Gogoro scooter initial cost is very cheap compared to other electric vehicles. I'm not sure the initial cost includes a battery and I think Gogoro is making more money with the battery swapping technology than the cost of the scooter. The cost of driving a Gogoro scooter according to energytrend.com is:
"Gogoro statistics show that cost for riding Gogoro electric motorcycles reaches only NT$1.3 per kilometer for a driving distance of 600 kilometers a month, compared with NT$1.44 for fuel-oil motorcycles, or NT$1.2 for driving distance of 1,000 kilometers, 15% lower than fuel-oil motorcycles."
I think those numbers make these scooters less appealing. Owning the battery and charging it yourself only costs a few cents, but when incorporate battery swapping technology into the mix, the price is almost as much as owning a gas powered motorcycle. Overall I think the Gogoro battery swapping technology makes electric scooters more practical, but it comes at a cost. Is it worth it?
---------------------------------------------------------------------
Harley Davidson should do something like this with their Livewire electric motorcycle or one of the other electric vehicles their planning to release soon. They already have a huge dealership network and could easily setup battery stations at these dealerships. Give the customer the option of charging their own electric motorcycle battery or swapping it out for a fully charged one at their local HD dealership. Have the station setup outside for 24 hour a day service.
Yamaha and Gogoro join forces to build new battery-swapping electric scooters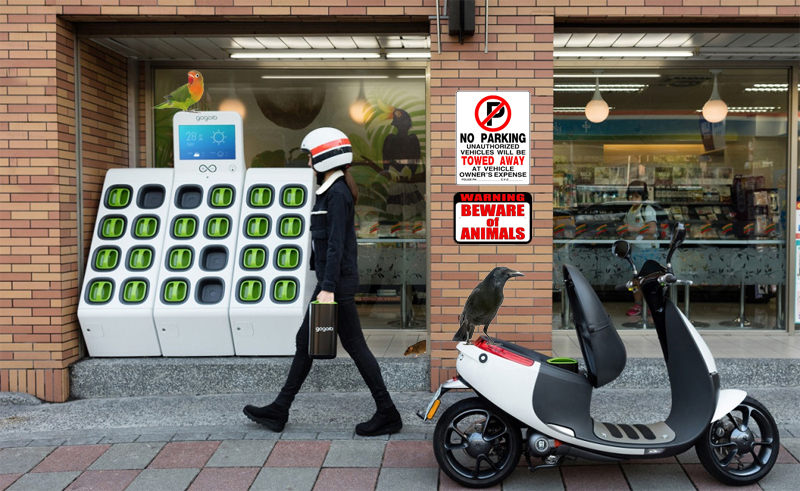 https://www.youtube.com/v/84wjrHvZW_4&