1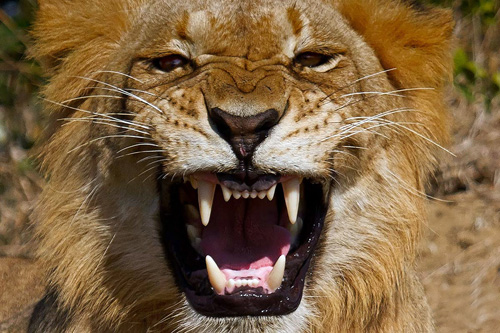 I remember seeing a photo by a Leftist describing Jesus as a brown skinned, Jewish hippy and illegal alien who illegally crossed into Egypt. The motive for the post was not to teach any truth about Jesus, but to attack and shame European and American whites who want to protect Western Culture and their homelands from uncontrolled, and often times illegal, 3rd world immigration. The other day I watched a video showing veterinarians in Africa who anesthetized a pride of lions feeding on a fresh kill. After being shot with a dart gun, the lion's soon passed out and a photographer recorded the size and shape of the male lions canine teeth and claws. The lions canine teeth were longer than the male photographers fingers, and the claws were almost as long and retract just like a domesticated house cat. If you ever had a house cat jump on your leg, then you know how painful and destructive to flesh the claws can be. Imagine that times a thousand. The Lion is a killing machine! If any creature deserves the title of Natural Born Killer, the lion would definitely be a contender. If you can gain any knowledge about God through his creation, then you realize God is not like some 1960's far left hippy who lives in a Volkswagen bus covered with peace and love symbols, and unwilling to defend his own.
Jesus led a sinless life and came with a purpose and message of salvation. God allowed Jesus to be tortured and crucified, so that we might live through his sacrifice of death for the atonement for our sins. Jesus was focused and disciplined, and what happened to him was not the result of weakness. The bibles description of Jesus Christ's return shows another side: Revelation 19:11-16
Christ on a White Horse
11 Now I saw heaven opened, and behold, a white horse. And He who sat on him was called Faithful and True, and in righteousness He judges and makes war. 12 His eyes were like a flame of fire, and on His head were many crowns. He had a name written that no one knew except Himself. 13 He was clothed with a robe dipped in blood, and His name is called The Word of God. 14 And the armies in heaven, clothed in fine linen, white and clean, followed Him on white horses. 15 Now out of His mouth goes a sharp sword, that with it He should strike the nations. And He Himself will rule them with a rod of iron. He Himself treads the winepress of the fierceness and wrath of Almighty God. 16 And He has on His robe and on His thigh a name written:
KING OF KINGS AND
LORD OF LORDS.